02/26/08
Filed under:
General
Posted by: Todd @ 9:51 pm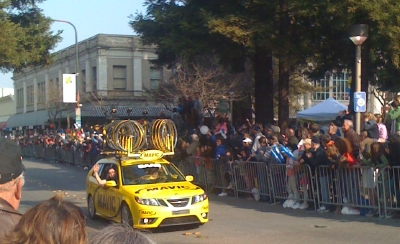 The Tour of California was just a blur. I bounced back and forth between Service Course and expo crew, which was necessary to get to know the different aspects of my job with MAVIC, but it made finding my groove a little tricky and made finding time to take photos and journal the event next to impossible. By the end, though, I felt like I had found my place and was getting the hang of new procedures and really had a blast.
The weather did not always want to cooperate with the race; anyone who watched the Seaside stage saw just how harsh the Central Coast weather can be this time of year. The racers obviously suffered during that stage and many subsequently became ill enough to end their efforts, but I want to take a moment to give mad props to our own SSC motorcycle crew of Paul Reinhart, Rob Love, James Stanfill, and Dan Large, as well as all of the Moto Marshals and Refs who rode for those same seven and a half hours in the wind and rain; talk about doin' it for the love and nothing else! Be sure to cheer the motos next time you see them. Luckily, that was the absolute worst of it, though a few other stages ended with rain and cool temps at their finishes.
Today I finally arrived home to Boston only to be reminded what lousy weather really looks like.