02/26/08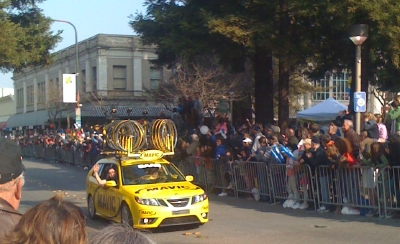 The Tour of California was just a blur. I bounced back and forth between Service Course and expo crew, which was necessary to get to know the different aspects of my job with MAVIC, but it made finding my groove a little tricky and made finding time to take photos and journal the event next to impossible. By the end, though, I felt like I had found my place and was getting the hang of new procedures and really had a blast.
The weather did not always want to cooperate with the race; anyone who watched the Seaside stage saw just how harsh the Central Coast weather can be this time of year. The racers obviously suffered during that stage and many subsequently became ill enough to end their efforts, but I want to take a moment to give mad props to our own SSC motorcycle crew of Paul Reinhart, Rob Love, James Stanfill, and Dan Large, as well as all of the Moto Marshals and Refs who rode for those same seven and a half hours in the wind and rain; talk about doin' it for the love and nothing else! Be sure to cheer the motos next time you see them. Luckily, that was the absolute worst of it, though a few other stages ended with rain and cool temps at their finishes.
Today I finally arrived home to Boston only to be reminded what lousy weather really looks like.

02/08/08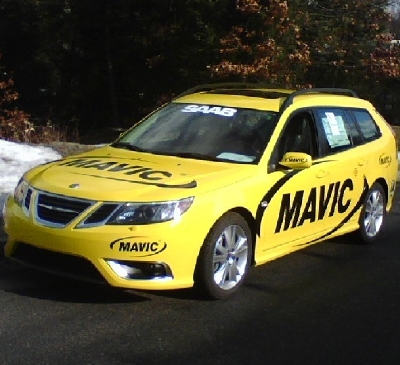 It's been a while since I last posted. Preparation for the AMGEN Tour of California has absorbed more than its fair share of my time; prepping bikes, wheels, truck & trailer, and the first of the all important new Saab 9.3 Aeros. Well, tonight the truck finally got on the road for it's week-long journey to Palo Alto, via Saint Louis and Boulder, leaving my mind clear for the first time in weeks. I'll get to relax until Thursday when United will whisk me off to the San Jose airport, where the mad pace and sleepless nights will resume for another week and a half.
To be honest, I'm looking forward to it. After all this boxing, building, pumping, and loading, I'm ready to do the thing that was the reason I sought this job in the first place - race support. Tiring and back-breaking as the work may be most of the time, that twenty-five second adrenaline rush of jumping out of the car, swapping a wheel or two, and sprinting for all your worth to push a racer-and-bicycle back up to speed is completely intoxicating. Some people may not understand where I'm coming from… maybe most. Those of you in that category will just have to take me at my word.