11/21/08
Hey, all. One quick note.
I've been getting an obscene number of spam-comments from some sort of spamtastic spambot in the last couple of weeks (anywhere between 15 and 25 per day). I think this is due to the lack of a security measure with my old blog editor, so I've switched to blogger, but keeping things hosted on my own server. I'll be migrating posts from the old editor into the new as time allows.
The new URL is simply www.todddowns.com
Comments Off
11/11/08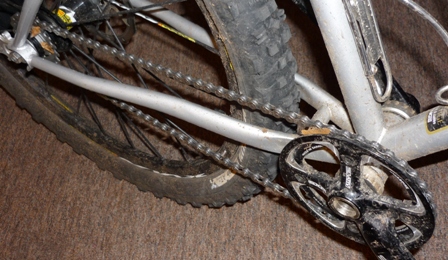 I'm trying to answer that question for myself, and I'm not entirely sure I will like the answer - not one bit.
I went for a ride with a group of friends today in Harold Parker State Forest, one of my favorite places to ride, for a sum total of about three hours. I'm sore in all the ways I should be, including one that I'm especially not psyched about. My right knee is really bothering me.
As a cyclist, I'm no stranger to knee pain. It's always been just one of those things that I expect to come along with the sport - what with all the crashing involved in BMX and mountainbiking. I've ridden my share of over-geared [sweet] fixies and ridden in the cold in shorts, and everything else one should avoid if long-term knee health is something of even a passing interest. It's been something I've brushed off over and over, but after today, the pain is just too much. Now, I'm afraid it's time to make a decision. Is one just not enough, anymore?
I enjoy riding singlespeed. I enjoy it for all the reasons you've heard. I'm not afraid to tell you that I like it for the way people look at my bike or for the nods-of-approval from other singlespeeders or for the occasional, "Dude, you did that on a singlespeed?!" Beyond all of that, though, I like singlespeed as an equipment choice. As a professional mechanic, when time rolls around that I can spend some quality time with my own bike, I like it to be with wheels-on-the-ground, as opposed to seatpost-clamped-in-a-repair-stand. My single-geared, rigid bike with cable-actauted disc brakes doesn't require a lot of maintenance and that's just the way I like it. This is how my pre-ride ritual goes:
1) Oil the chain
2) Pump the tires
3) Squeeze the brakes
4) Bounce the bike (if it sounds like a basketball, it's good - I can tell you more about that, later)
I don't have to worry about checking sag or when was the last time the brakes were bled or did I smack a derailleur on the last ride. I just get on the damned bike and go. Great, yes? No.
My devotion to simple thrills is wreaking havoc on my joints. My wrists and elbows seem to deal with the rigidity portion of the equation just fine, but my knees can't hack the harshness of their workload anymore. I'd gear down, but then I'd be working harder and spinning faster on the flat bits and the downish bits. Plus I begin to wonder whether gearing down and letting myself spin more on the climbs would limit my ability to bump and float over rocks and roots, bringing suspension back into the picture, but that's just getting ahead of myself. The root point of it all is I don't want to be forced into ending my ability to ride, altogether, by being a bullheaded stalwart.
Much as I love it, I think time may have come to let go of my beloved SOMA and give derailleurs a go.
11/03/08
Stage 13, Narbonne to Nimes
My last day at the Tour was a bittersweet one, for sure. We were finished with the Pyrenees, so this last day would be a flat stage running parallel to the Mediterranean coast. We arrived at the village, per usual, and relaxed with coffee and pastry under our tent. Lionel was in a particularly giddy mood and was really hamming it up. We would have a French TV reporter as our VIP in Car 3, and Lionel was either excited, or nervous, or likely a bit of both.
Niki Terpstra and Florent Brard attacked inside the first kilometer to get their day in the sun. As Car 3 for the day, and with a single, early break that quickly grew to about 10 minutes we found ourselves in a fairly relaxed position where Lionel could go about filling-in the reporter in on all the ins and outs of neutral service and on the History of MAVIC, including a stop on the roadside to get some footage of the car and all its rooftop kit. For our race leaders, a day in the sun, which was literally just that, turned out to be their ultimate undoing as they each succumbed to the heat, with Terpstra finally getting swallowed up by the group with 10k to go. After a handful of late attacks, the day ended in an inevitable bunch sprint and with the Manx phenom, Cavendish taking his fourth stage win.
On this day, though, I had become much more interested in taking in as much of the French countryside as I could manage. It had been a fantastic trip to this point and I was disappointed to think I would be boarding the TGV the next morning to make my departure. I had made fast friends with my French Service Courses counterparts and was finally getting the hang of reading a menu and not making a complete fool of myself when trying to order dinner.
On arrival at our hotel in Nimes, I met up with Petar, who would be taking my place in the car for the next week through the Alps. Pete was still a bit jet lagged and sleeping when I got to the room, but immediately snapped up, grilling me for every detail of my trip and frequently interrupting my responses with, "DUDE! We're in FRANCE!" It was almost more than either one of us could handle, on our own - put both of us in the same room, and we became downright adolescent. Before long (like, within minutes) we were both speaking a mad gibberish, each statement punctuated with, "DUDE! We're in FRANCE!" or, "DUDE! We're at the TOUR!"
I was mid-sentence explaining to Pete how outrageous the dinners had been all week when there was a knock at the door. It was Denis, gently reminding us, "Il est vingt heures moins le quart! Allez! Dinner! Let's go!" That's 7:45… we were supposed to meet at 7:30. We got our shit together quick and started walking to the cars, assuming we were driving to dinner. Wrong again, Denis alerted us, "No. Walking," motioning toward the road.
Pete turned to me, pointing out that he had been asleep for most of the drive to the hotel, but didn't recall anything that resembled a restaurant on the way to our hotel on the outskirts of Nimes. I didn't notice anything either. The hotel was about half a kilometer down a lonely road from a traffic circle with an Esso station and nothing else as far as I could see. I quipped, "It's been a long week, maybe we're just going to the gas station for Slurpees and HoHos and calling it a night." We continued to march down the road toward the circle, bantering on about the trip and the absurdity of it all. "DUDE! We're in FRANCE!"
At the circle, we found ourselves walking straight into the Esso's lot, at which point I nudged Pete and muttered, half amused and half bewildered, "Dude. We ARE eating at a fucking gas station."
We marched past the front of the station that was a very nondescript, very Mediterranean, stucco building with a tile roof, and around the side where a small window and door could be found. Through the window, a bar with about six stools could be seen, and once in the door we found a small dining room of about ten tables, six of which were put together for our group. Georgie, the Swiss, got up from the table, walked over to us, and firmly stated, "We meet for dinner at seven-thirty, not eight o'clock. It's hard enough getting the fucking French to keep to a schedule. If they had their way, we'd be here all fucking night!" His words trailed off into a giggle, so we knew he wasn't genuinely upset. Even the French, among us, found it funny. Funny 'cause it's true.
Dinner became more surreal as the aperetifs arrived along with the menus - a four-course dinner at an Esso station. Four bottles of table wine to start, salads with fresh, local goat cheese, roast duck, a cheese course, coffee, and a sweet, soupy yogurt concoction for dessert that was just amazing. It's a dinner story I've told a hundred times since I've come home, and there's no end in sight. I couldn't have dreamt up a more perfectly over-the-top way to cap-off my first trip to the Tour.
08/18/08
Read it out loud, using your most outrageous French accent

"Zose things will make your 'emorrhoids clap 'ands!" — Exclaimed after eating a rum-soaked hot pepper of some kind

Comments Off
08/14/08
An internet connection is something I've taken for granted in most of my travels, but in the smaller villages in the South of France, and I'm sure throughout most of Europe, one is a rarity [apparently, the Adirondacks aren't much better]. Mid-way through my stint with the French SSC gang, I grew more and more comfortable with the schedule and arrangement of the program, and also got to know each of my French counterparts a bit better. I've learned that Neutral Service in Europe is quite a different animal than in North America; they really are only there to pick up the slack when the team cars aren't present. Still, when that gap exists, they're all-business.
Short-lived as it was, I enjoyed the experience, immensely; it's something I'll always carry with me. To be a part of an event as grand as the Tour de France is reserved for only the most elite, and as a mechanic, I'm proud to have been accepted into that group.
Stage 11, Lannemezan to Foix
This stage features a section of road a few kilometers long that is so narrow that Tour organizers have declared that teams will not be allowed to service their own riders on that stretch. As a remedy, they have asked MAVIC to provide more two-wheeled support. A group of corporate employees (all of whom also have extensive race service experience, of course) bring three dual-sport motorcycles, normally reserved for Paris-Roubaix, to bolster the efforts of Freddy and Denis on the scooter. So it's with a caravan of four cars and four motos that we roll into Lannemezan. Our reserved tent in the Start Village is a bit more crowded and more lively than it was during the first two stages, making our time there pass quickly and, before I even knew it, we were walking to our vehicles to make our final preparations for the start.
Lionel and I were car 3 on this day and enjoyed the luxury of not carrying a VIP in the front seat. With our out-front position in mind, we made a fast break with the first Gendarmes and began our leisurely afternoon drive, patiently awaiting a fracture in the field.
The first break to stick was well-in-hand with car 2 and plenty of motor-support, so we continued on our merry way, stopping to greet a friend of Lionel's who gifted us with a foil container of the most amazing home made sugar crepes I've ever tasted. I snapped photos of scenery while Lionel tortured me with a 70's radio station, turning it way up any time a song in English would come on, which was more often than not. I remember some Foreigner, some ELO, Kansas… you get the picture. Like I said – torture.
Finally, after more than two hours of this, it was business time again. Moinard had created enough of a gap with his solo effort that we were called back to cover him. We followed closely behind Moinard until the Cofidis team car arrived, but his lead over the chase group was still tight enough that we needed to keep close. That lead continued to dwindle, and so, ultimately, we chose to drop back and cover an unsupported Oscar Pereiro who was riding a surprisingly successful solo bridge for the time-being. I say time-being, because not long after we fell in behind the Spaniard, we could see the peloton all-too-clearly through the rear window. Once Oscar took full notice of this too, we bee-lined it to the front again, leaving the race to its own devices, once more.
Stage 12, Lavelanet to Narbonne
We're officially out of the Pyrenees, and racing down toward the Mediterranean coast. Incredible as it's been traveling along with the event up to this point, it's beginning to feel a lot like any other bike race. At first I wonder if the magic is fading, but then I realize that it's comfort sinking in; I'm feeling less and less like "U.S.", who's been invited to tag along for a few days, and more and more and more like one of the team.
It was predicted that stage 12 would end in a bunch sprint because of the prevailing downward direction of the race, with only one categorized climb along the way (a Category 4 climb… hardly a sprinter-breaker). What hadn't been predicted? The race would make its way to Narbonne, one team slimmer than it had arrived in Lavelanet. The Ricco/Saunier Duval scandal was all over the airwaves from the moment the caravan began to lead the race out.
Between newscasts and speculation over the two-way, Lionel and I took note of the fact that there was, in fact, a bicycle race happening. More to the point, two French riders, Arnaud Gerard and Samuel Dumoulin, had made their attack stick. So with four eyes on the Francaise de Jeux and Cofidis riders, and two-and-a-half ears on the radio reports (I've got to face it; my French isn't that great) we plodded away in the bright yellow Skoda.
The gap to the peloton maxed out at about four minutes and was steadily falling when a fresh-looking Juan Jose Oroz bridged and nearly left the two Frenchmen dazed in his contrail. Dumoulin and Gerard woke up, though, and managed to match the Spaniard's pace, breathing new life into what had been a dying breakaway. This infusion of energy that briefly stretched the split in a positive direction was still too little, too late. The day would, after all, end with the spectacle of a mass sprint for the line, and the 23-year-old Manx, Mark Cavendish would make it his third time atop the podium in his first ever Tour de France.
One more to go: Narbonne to Nimes.
08/04/08
I spent two hours last night trying to put up another post from my Tour de France trip, but the server stopped responding… twice… and I lost everything that I was loading.
So, please, everyone who has been asking me when I'm going to post again, STOP!!! I'm about at wits' end with this. It will go up when it goes up.
07/15/08
Today is a rest-day at our race hotel in Tarbes and my first chance to catch up on some much needed sleep and to get some photos uploaded from the last two days of the Tour.
My arrival on Saturday afternoon was mostly uneventful, though bus service in Toulouse was a mess because of race-related road closures. Nonetheless, I made it to the hotel, found the French SSC crew, and got checked into the hotel. We had dinner at a Tapas restaurant that night, in grand fashion, with the French TV organization. Wine flowed late into the night, making me nervous about the next day… 6:30am in the lobby… ugh.
Stage 9, Toulouse to Bagneres-de-Bigorre
As predicted, my 6:00am alarm rang much too soon, but I managed (despite the fact that my internal clock insisted that it was midnight). The French SSC crew insist on arriving on course 3 hours before race-start, presumably because if they arrive any later, they would never get the cars in position where they want them for roll-out. There is, however, a bustling, restricted-access race village with coffee and food waiting for the race organization… and real bathrooms… the lap of luxury.
Once underway, I managed to doze off for a bit while Lionel and I made our way in the forward caravan, ahead of the race, until the first break formed and we dropped in to cover the leaders, Seabstian Lang of Gerolsteiner, Aleksandr Kuschynski of Liquigas, and Nicolas Jalabert of Agritubel. Jalabert was dropped after the first Cat 1 climb, and we went with him to cover the chase group that also included de la Fuente, Sanchez, and Monforte while car 3 took over our position behind the leaders. We were ultimately pushed forward as things began to come back together and finished up ahead of the race.
The day ended at the hotel-restaurant in Tarbes where I had the worst meal of my life (note to self: avoid ordering beef in France, though the frites were good). Another long day, another short night, but tomorrow: Tourmalet.
Stage 10, Pau to Hautacam
The big day. Today, we ascend the Col du Tourmalet and Hautacam. The start is later than it was yesterday, but it was still a chore to get out of bed. On our way into Pau, we drive through what is the Start/Finish line of the famed Formula 3 circuit – very cool. Another morning spent in the Village, relaxing before the stage begins; I could get used to this kind of treatment. How would we go about making this happen in the States?
Lionel and I, this time as car 3, begin our race with a leisurely drive through the French countryside again, taking in the scenery along the way. A break forms and car 2 is there to fill the void, so we continue along our way, moving far ahead in the caravan to allow time for occasional stops to greet friends of Lionel on the route.
A crackle comes over the radio, followed by something in French (go figure), and Lionel turns to me to say we're swapping places with car 2. A Gerolsteiner rider, Markus Fothen, is having trouble with his transceiver, which has come loose, and they're going to let me handle the service. But no. I'm seconds away from my first service in the Tour de France… and out the window, no less, when the Gerolsteiner car arrives from the main caravan and we have to hang back. C'est la vie.
The road began to go up, in earnest, and one of two Francaise des Jeux riders in the break of seven, Remy di Gregorio, takes advantage and solos off toward the Torumalet summit. Lionel and I move up and back, trading places on several occasions with the Francaise des Jeux team car to make certain both riders are covered, finish off the climb with Remy, and then do our level best to keep up with him as he tops 80km/h on the way down through the hairpin switchbacks of Tourmalet. (I learned later that a motorcycle went down, hard, on that same descent, behind the peloton. Unfortunately, it didn't come as a surprise.)
The way to Hautacam, once again, opened a chink in the breakaway's armor, slowly ending those fleeting moments of glory for the seven. With no place to go but forward, we carried on in the yellow Skoda, leaving the race to its own devices until the finish.
At the top, I spied a diversion that only later (much later) did I realize that I had time to partake while we waited in a queue to be allowed back down the mountain. They were four-wheeled buggies, like go-karts, sans motor, that were towed up the slope on a modified ski lift. Dumb fun – it's the best kind.
Dinner was better on this night, at a restaurant just a short hop from the hotel. Salmon with pasta marinara – not your typical French fare, but I wasn't complaining.
Which brings us back to today: relaxing at a hotel in the South of France. Okay, so it's a hotel in the middle of an industrial park. I'll still take it.
07/05/08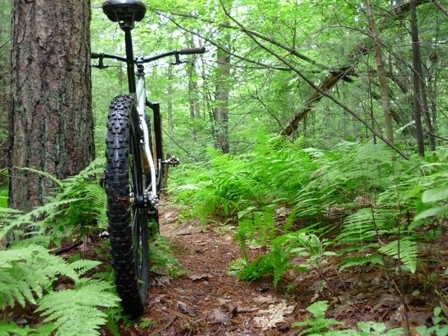 It's been a while since I last rode Harold Parker; since the seasonal trail closure was lifted at the Fells, I've been siding with convenience for my occasional dirt excursions. Today I made the decision to take a drive back to Parker and see whether it was everything I remembered. It was.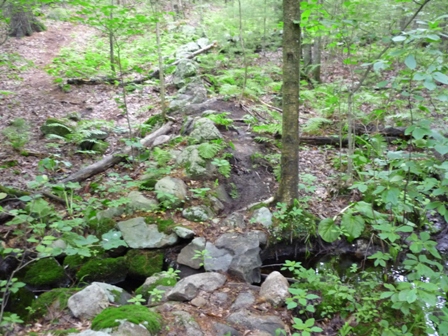 We've had a steady parade of rain showers in the afternoons and overnight for the last several days, creating a verdant, almost surreal landscape for today's exploration. I ventured out a bit further into the park than I have in the past and discovered more and more amazing singletrack - this place has it in spades and I've only scratched the surface. The moist soil afforded traction like you read about, and was counterpointed by damp rocks and logs that did their level best to remind me to always be watching my line. I was in heaven.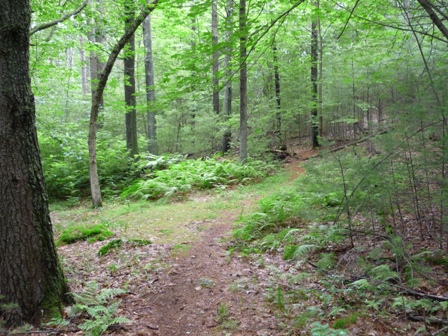 Despite being mid-day on a Saturday, and a holiday weekend, no less, I never crossed paths with another person in the course of my convoluted loop. I rolled my way over hill and dale, turning randomly at the various trail intersections until I reached a point where I decided to begin wending my way back. Still, with no prior knowledge of the trails I was on, no markers to indicate my position, and no map, the second half of the ride was as meandering as the first. I'm fair certain that this only added to the experience of the day - for me, the thrill of discovery is a large part of what mountain biking is all about.


06/29/08
Or, to be specific, 29.0075475. I'm talking about PSI, not inches… More to the point, I'm talking about two Bar.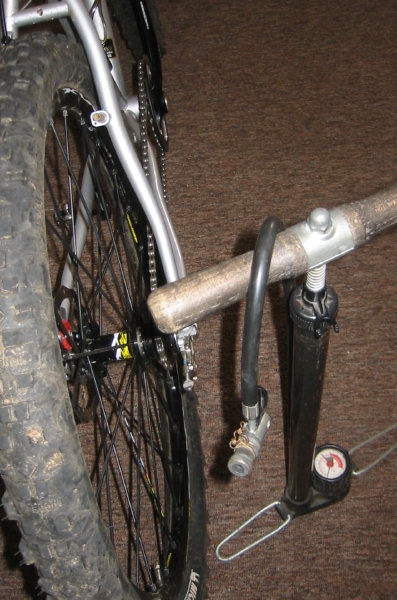 It was like any other Fells ride yesterday, save for one very important detail; my tire pressure was perfect.
I've been playing around with inflation to find the right combination of traction, flotation, cushion, and speed. On a fully rigid singlespeed, this can be a difficult combination to get right, but I think I finally did. After weeks of fumbling about, aiming the needle of my pump gauge "a little past this line" or "just shy of that one", all with pretty okay results, I thought out loud, "Why not 2 Bar?"
Bar, for those who don't know is a unit of air pressure based on atmospheric pressure at sea-level. The short of it is one Bar equals one atmosphere (at sea-level), which equals 14.5(ad nauseam) PSI.
By coincidence, my Michelin Mountain AT, 26×2.3 tires on MAVIC Crossmax ST wheels under my 190~ish pound self work really well at two Bar. The beauty of this is that two Bar is neatly marked on my gauge, where 29.0075475 PSI is not.
Maybe it's too much for some of you to stomach; I'll freely admit that I geek out about tire pressure almost as much as ThomP does about gearing. Still, something magical happened on that trail yesterday that I can only attribute to two Bar. The rock gardens felt smoothed out, steering on the singletrack felt precise, there was grip to be had on mud-slicked rocks, the fire trails felt fast and tight, and I felt my rim bottom exactly once (It is said that if you don't bottom your suspension at least once per ride, it's too firm and you're not using all of your travel… The same can be said for your tires). On my 20-inch, I run 70 PSI in the rear and 65 in front. On my road bike, I ride 110. Now, finally, I can say I've discovered the magic number for the mountain bike (Sorry, Posdnuos, P.A. Mase, and Trugoy… it's not three).

04/23/08
Sea Otter was a whirlwind, literally. On top of howling gales that razed more than a few tents and at least one giant, inflatable slide, the event was bustling and prevented me from taking in much of the sites for myself.

The day after the event began much too early with a drive to the San Jose airport to drop Bill off for his morning flight, and then continued westward across California and Nevada. Driving up and over Donner Pass was pretty spectacular, though I don't quite understand how the Donner Party could have become so hopelessly lost. There were plenty of road signs and even a handful of rest stops with gas stations. At the very least, they could have picked up some some Slurpees and a rucksack-load of HoHos every hundred miles or so. We finished up for the evening in Wendover, Utah, at the shadiest Best Western hotel I've ever experienced, but it was late enough that it didn't much matter. After a short walk up and down the street to revive my road weary legs and settle the lump of meat* (may or may not have contained actual meat), courtesy of Arby's, I passed out quickly and slept like a… something that sleeps.
The highlights of the next morning were a handful of strip mining operations and a drowsiness-inducing trip across the Salt Flats of Northern Utah. Once we reached Salt Lake, the landscape became more interesting again. South of Provo, we turned off the Interstate and onto the Price Cutoff (AKA: US-6), taking us through some miserable one-horse towns, but also some spectacular geology. Once again, though, my camera failed to capture anything but blur at highway speeds. I guess it's time for something beyond a camera phone.
Rolling into Gunnison, Colorado, where Dan and I would get a much needed rest-day at his house, I did finally manage to get a shot that does the area justice. While it isn't quite my kind of town (my kind of town would be something more like Boston, Chicago, or New York), I can definitely appreciate why Dan likes to call it home. Gunny has a lively downtown and is nestled amid some of the best mountain biking and backcountry skiing you're likely to find anywhere on the planet. Maybe sometime on down the line I'll get to spend more than an afternoon on a loaned townie bike exploring some of the best the area has to offer. For now, I'll just enjoy a good night's sleep in a real bed. Next Stop: Fruita
04/19/08
Sea Otter has been pretty hectic thus far. To keep ourselves from going mad, we jump on any chance to make light of the goings-on of the event. Sometimes it's suffering through a million unrelated questions from a crazed local who only wants to hear himself talk - all so everyone else can enjoy the show from the other end of the tent. Today it was dressing like Ninjas to protect ourselves from the cold wind and swirling dust.
Comments Off
04/16/08
This was a regular feature on my old website that I had all but forgotten until something that happened this morning jogged my memory. I reached into the refrigerator for the tub of Greek yogurt and noticed the date on top of 4/14/2008. As a knee-jerk reaction, I was about to simply toss it into the bin when a tiny little nugget of Robért's pure-gold wisdom came flooding back to me, replete with outrageous French accent…
"The label on the package says BEST BEFORE, not BAD AFTER!"
Of course, he was right; the yogurt was fine. As time moves on, I'm going to try to resurrect some of my favorite Robért quotes. Those of you who know Robért can maybe help me out with suggestions. The world needs to hear this stuff.



04/14/08
As the weather has finally made its turn for the better here in Boston, my thoughts turn quickly to getting outside. I recently moved north of the city and live in very close proximity to The Fells, which is home to some great trails for mountain biking. The Fells, however, like many of the most popular parks managed under the Massachusetts DCR, is closed to mountain biking for a period of the late winter and early spring to mitigate trail erosion. I can't fault the DCR for that decision, so I'm driven to find another venue - still nearby - where I can get my early season fix.
After interrogating some friends and acquaintances on the subject, I came to learn (well, not to learn, so much as to be reminded) of the existence of a small State Forest just a few miles away in Andover called Harold Parker. Having been mountain biking now for decades (the realization is as frightening as it sounds), it surprised me to think that I have never ridden at Harold Parker State Forest. It's not so small, nor so out of the way that it could have been simply overlooked. Somehow still, it was, and I can't help but feel that I've really been missing something.
This might hardly seem at first read like the high praise that it is, but indulge me for a moment. Harold Parker is enough. Really. I'll use a few, simple (borderline: pedestrian) comparisons to illustrate my point– small enough that you can't become hopelessly lost, yet large enough to let you feel like you're really getting somewhere; crowded enough to feel friendly, yet quiet enough to afford some solitude; its trails are flat enough and smooth enough that you can casually and comfortably meander through most of the park, yet rolling enough and technical enough to challenge your skills and fitness –Do you see where I'm going with this?
It's entirely likely that I've grossly understated this, but maybe that's just it. Harold Parker State Forest is understated, in and of itself. It doesn't have the flash and uniqueness, the spectacular views, nor the endless networks of trails that other parks in New England boast, but when you want nothing more than to enjoy a place for what it is, there just may be none better than this place.

Comments Off